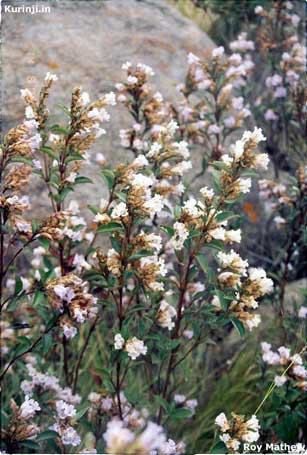 Cultural associations of kurinji

The kurinji lore is inter-twined with the lives of tribals. Both the Muthuvas of Munnar and the Todas of Nilgiris consider the flowering of kurinji as auspicious. However, there are taboos that prevent them from destroying the plant or its withered twigs until the seeds mature and disperse ten months after the flowering.

Kurinji is the flower of Lord Muruga (Murukan). The Muthuvan lore has it that their god married Valli, a veda (tribal hunter) girl, by weaving a garland of kurinji flowers (kurinji malar) around her neck. For them, kurinji is the symbol of love and romance. They also calculated their age as multiples of the flowering cycle of kurinji. The Todas do not associate kurinji with anything divine.

The Sangham classics have several references to the kurinji flowers though some of the descriptions may be referring to flowers of karim kurinji (the white flowers of black stalked kurinji) instead of the neelakurinji (Strobilanthes kunthiana). Several folklores of Todas refer to kurinji. The classical Carnatic music has a ragam (tune) named kurinji.

In olden times, the abode of kurinji itself was referred to as kurinji. The five physiographic divisions or ecozones of Tamilakam were referred to as kurinji (hilly backwoods), palai (parched zone), mullai (pastoral tract), marutam (wet-land) and neital (the littoral). This classification also applied to areas of Kerala. (Picture shows the white variety of kurinji with the blue variety-- neelakurinji in the foreground and background.).

---