Where does kurinji bloom?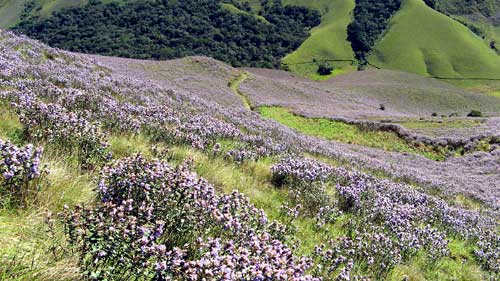 In 2006, Kurinji (neelakurinji) bloomed gregariously at several places near Kodaikanal (India) and Munnar. The biggest flowering was at the Eravikulam National Park.

At the National park, carpets of flowers formed at the Turner's Valley (about 16 km inside the park), Poovar and on the hills near the Lakkom Muthuvakudy besides the tourist zone at Rajamala..

It also bloomed gregariously on the hills between Klavarai in Tamil Nadu and Koviloor in Kerala, especially in the Kadavari area. These areas are now within the newly formed Kurinjimala Sanctuary.


Patches of kurinji occur in the remaining sholas near Koviloor. Koviloor is a few hours drive from Munnar in Kerala. A jeep road connects Koviloor to Klavarai and Kodaikanal (Tamil Nadu). The road need not be motorable all the time (especially during monsoon).

Trekkers can spot kurinji by the sides of the old Munnar Kodaikanal road. Trekking may require permission from the Forest Department. The plants can also be located at places such as Yellapetty and Kanthalloor outside the protected areas. At Yellappetty, you have to trek to the hills south of the Yellapetty estate.


Some areas of the Mukurthi National Park near Ootty and adjoining areas of Silent Valley National Park also have the plant. Besides, blooms have been reported from Attappady and Mangaladevi. Flowerings occur at Shevroys in the Eastern Ghats also.