Breeding season begins at Eravikulam National Park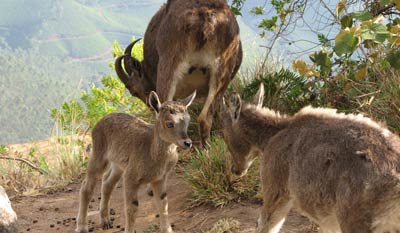 MUNNAR, February 18, 2007 : The breeding of the endangered Nilgiri ibex (Nilgiritragus hylocrius) is underway in Kerala and Tamil Nadu (India).
Conservationists are watching whether the number of the species, protected at the Eravikulam National Park, will go up this year.
More than a dozen kids are now roaming the rolling grasslands of the Park and delivery of many more are expected in the coming weeks.
The Park has been closed to visitors in February to provide protection to the kids. This may be extended for a month or two.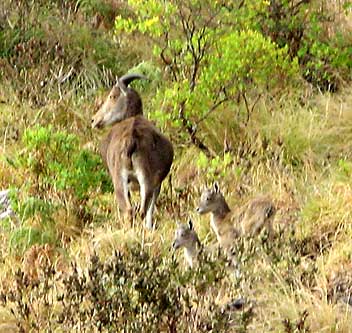 The number of ibex in the Park had dwindled to 704 last year (2006 census) whereas its population had been more than 1300 a decade ago.

Also called the Nilgiri tahr, the Nilgiri ibex is related to primitive goats, sheep (genus Ovis) and the Himalayan tahr, but is distinct from them. It belongs to the Bovidae family as they have two-pieces cloven hooves and sub family caprinae.

Tahrs are found in rocky areas of in high elevation shola grassland in Kerala and Tamil Nadu. Its flight across rocky climbs would look like a streak and hence the name Warayadu in Malayalam.

Female ibex usually gives birth only once in a year and the pregnancy lasts about 180 days. Survival of the kids would depend on various factors such as poaching and number of predators on the shola grasslands.
---