Kurinji seeds mature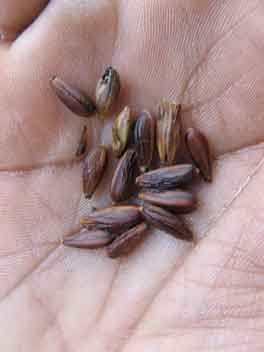 MUNNAR, May 20, 2007: Kurinji seeds have matured across its habitat (shola grasslands) in Kerala and Tamil Nadu and have fallen off from shriveling plants.

The kurinji plants begin to dry up soon after pollination. But the plant would not die out totally until the seeds mature. Once the seeds mature, the pods break out explosively, spreading the seeds. Then, the plants wither away.

Kurinji employs the technique of predator saturation to ensure the survival of its seeds. The massive orchestrated flowering once in 12 years leaves millions of seeds on the ground. Though predators such as jungle fowls would gather to eat the seeds, the sheer number of seeds would overwhelm them. By the time, the predators feast on the harvest and multiply, the season would be over. Then there will be no fresh seeds for the next 12 years.

The seeds will open up during the coming monsoon. However, the budding plants will not be seen above the grasses for years to come. The plant gathers nutrition over the years and its growth speeds up towards the 12th year. Then, kurinji flowers would carpet the mountains and hills for another time.


---