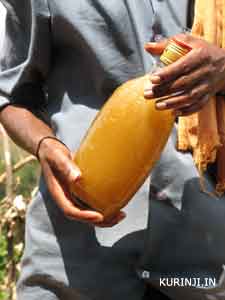 Nectar of kurinji is a sell out

MUNNAR, June 10: Very few people know about kurinjithen, the sweet honey obtained during the flowering season of kurinji. Yet, it has been sold out.

Swams of bees congregate on the meadows when neelakurinji blooms once in 12 years. The honey produced by them during the season will have the nectar from the kurinji flowers as it main ingredient. It will be darker in colour and taste better.

The tribals, who are permitted to collect minor forest produce from the forests, gather this honey. However, during the season last year, they could not collect much honey because it was raining most of the days. What they had collected during the period has been sold out.

The honey gathered after the season was not pure kurinjithen. It is a "joint", said the head of a tribal colony Krishnan, using bits of English he has picked up. He means that the honey is a mixture of nectar from kurinji as well as other flowers. And stocks have almost run out. The tribals sell the honey after heating and filtering it, possibly destroying some micronutrients in the honey. (The golden honey in the picture is the 'joint').
---