Viable population of Tahr at Chokramudi near Munnar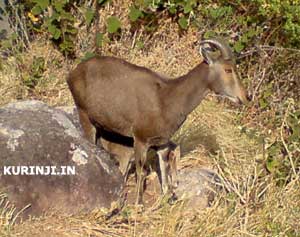 MUNNAR, February 8, 2008: A viable population of Nilgiri tahr (Ibex) is reported from Chokramudi near Lokhart gap (Devikulam, Idukki district). The Forest Department is considering restriction of visitors to the area to protect the population.
This is the breeding season of the Tahr (Nilgiritragus hylocrius)and a group of ten ibex have been reported from the hills including some young ones. this is an area where kurinji blooms.

The breeding season of ibex had begun late this at the Eravikulam National Park, where the endangered species is protected, owing to climatic changes. Kids have now been reported from Umayamala and Rajamala areas of the Park. >
Nilgiri tahr populations exist at Varayadu Motta on the Ponmudi Hills, Varayadumudi near Agastyamalai, Thunakadavu (Parambikulam Wildlife Sanctuary) and the upper hills of Silent Valley besides the Eravikulam National Park and nearby hills.
---