Fires destroy shola grasslands in Kerala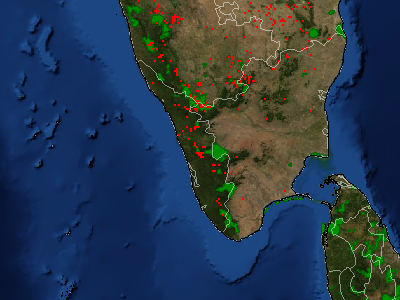 Thiruvananthapuram, March 17, 2008: Fires have destroyed more than 50 acres of shola grasslands at Ponmudi early in March this year.

The areas destroyed included grasslands near upper sanatorium at Ponmudi and those on the hills at Kambimoodu. This is close to the area originally earmarked for allotment to the Indian Institute of Space Science and Technology.

The grasslands behind mosque at Munnar have also caught fire. This was an area where kurinji seeds were sown during the last season. Sprouting kurinji plants in some parts of the hill were destroyed.

A large extent of grasslands near Ponnambalamedu in the Periyar Tiger Reserve was also damaged in fire early this summer. Nearly 100 forest fires were reported during this summer including those in the Idukki wildlife sanctuary and buffer zone of Silent Valley National Park.
(Red squares in the map indicates fires detected by the satellites of FIRMS).

---