Agasthyamala Biosphere Reserve may miss UNESCO approval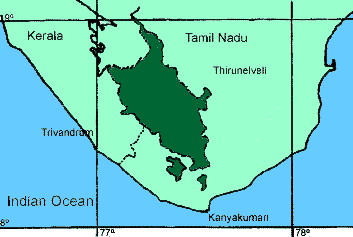 THIRUVANANTHAPURAM, June 7, 2015

: India may miss UNESCO's approval of Agasthyamala Biosphere Reserve under the Man and the Biosphere Programme because she is yet to clarify on buffer zone north of the Reserve.

The International Co-ordinating Council of the Man and the Biosphere Programme is meeting at UNESCO headquarters in Paris from June 8 to 12 to consider recommendations of its advisory committee on approval of new Reserves under the World Network of Biosphere Reserves.The advisory committee has recommended inclusion of Agasthyamala Biosphere Reserve in the Network, provided the northern part of the core area is protected.

The Committee observed that the northern part of the core area is not surrounded by a buffer zone. It had requested national authorities to provide clarification on the legal status of the outer zone of that part of the core area.

It appears that the requirement specified by the committee has already been met with the inclusion of parts of Tamil Nadu and parts of Pathanamthitta district of Kerala in the Reserve. The core area of the Reserve falls within the protected areas of Neyyar, Peppara and Shenduruny wildlife sanctuaries of Kerala and Kalakkad-Mundanthurai Tiger Reserve of Tamil Nadu. The buffer zone lies within the wildlife sanctuaries and the tiger reserve. It comes to about 890 square km while in UNESCO's reckoning; it is only 144.5 sq. km.



Conservation of Biodiversity


Biosphere reserves are land, marine or coastal systems aimed at conservation of biodiversity along with its sustainable exploitation. The concept recognises the need to involve the people subsisting on the resources of the region in the conservation efforts.

The World Network of Biosphere Reserves currently numbers 631 sites in 119 countries, including 14 that straddle national boundaries. It includes a wide range of locations such as Cambodia's Lake Tonle Sap, the Mare aux Hippopotames in Burkina Faso, the wetlands of Pantanal in Brazil and the Canary Island of Fuerteventura (Spain).

A total of 26 proposals from 19 countries for the inscription of new Reserves are before UNESCO. Proposals from 17 countries are recommended for approval while aprpoval for a few of them are recommended to be deferred. Nominations of Hanma (People's Republic of China), Gorges du Gardon (France) and Agasthyamala are recommended for approval pending the submission of specific information. If the Council is not satisfified about fulfillment of the conditionalities for approval by these sites, it may differ approval.



---